Newest, beautiful, single women now added for week of Wednesday, 9 June, 2021 - Tuesday, 15 June, 2021
During this COVID-19 crisis, be assured we are still working daily to ensure your success!
Fun Dates Ideas for Spring Time in Ukraine
Ukraine, Europe's largest region, is currently in the midst of spring.
As a result, it's at its most lovely - the ideal time to take a tour of this lovely country while also going on a date with the Ukrainian woman of your dreams.
This is a great opportunity to try out some of the date ideas on this list while spring is still in the air. It is recommended that you take advantage of the best weather for dating.
Ukraine, as Europe's largest republic, has a plethora of tourist attractions, including festivals honoring the country's rich culture and a beautiful collection of centuries-old architecture.
Ukraine's people are as diverse as its scenery, from rolling countryside to cobblestone streets of old city centers, and they are among Europe's most hospitable people.
With that in mind, there are a plethora of unique date ideas and beautiful Ukrainian women to choose from. You've come to the right spot if you're looking for the perfect way to spend a romantic spring in Ukraine.
Dates in Ukraine in Spring
While Ukraine is known for having many beautiful places to visit and explore, a person can only see and do so much with the time they have available.
As a result, we've highlighted the best places in Ukraine for you!
1. The Ukrainian Hogwarts is Chernivtsi National University
The moment you walk through the doors of Chernivtsi University, or ChNU as it is known among the locals, you will be impressed.
Every space in this university is decorated in a distinctive style. You'll feel as if you've stepped into another dimension when you visit the Marble Room, the Blue Room, or even the vibrant Church of the Three Saints, which features architecture from Europe's golden age.
After walking around, don't forget to pay a visit to the university's botanical garden, which is situated behind the building. There, you can relax in nature or simply marvel at the "Ukrainian Hogwarts" architecture.
And if you want to learn about the famous duel between the professor and the librarian, the room that magically makes you younger, or the university's underground tunnel, you can do so on the official tour!
2. Uzhgorod Cherry Blossom Viewing
If you go to Uzhgorod in April, you'll see beautiful sakura flowers blooming all over the place.
Sakura Boulevard, which runs from the bus and railway stations via many streets in Uzhgorod, is the best place to appreciate this pink-hued beauty.
Because of its legends, Uzhgorod has cherry blossoms despite being so far away from Japan.
According to the first legend, a Japanese diplomat gave the sakura trees to Franz Josef, the Emperor of the Austro-Hungarian Empire at the time (which included Uzhgorod).
When the locals learned about the gift, they stole a few of the sakura seeds and sold them as fruit trees at the local market.
Then there's the second legend, which suggests that the government planted sakura trees in Uzhgorod in the early 1920s to solve a landscaping problem.
The city center of Uzhgorod was full of swamps and mud at the time. Sakura trees, also known as cherry blossom trees, were one of the few plants that thrived in the harsh environment.
Cherry blossoms have been a permanent fixture in Ukraine's Uzhgorod since then, according to legend.
Flowers are loved by the majority of women, and none more so than Ukrainian women. Take your date for a stroll through the cherry blossoms.
In the heart of this magical city, learn about the legend of the sakura trees with her (if she doesn't already know). It's a classic romantic date, with the two of you bonding over the beautiful flower trees and the city itself.
3. In Lviv, you can drink kava.
Men and women in Ukraine, especially in Lviv, will advise you to visit the cafes strewn about every block and corner.
They are really proud of their reputation as Ukraine's coffee city.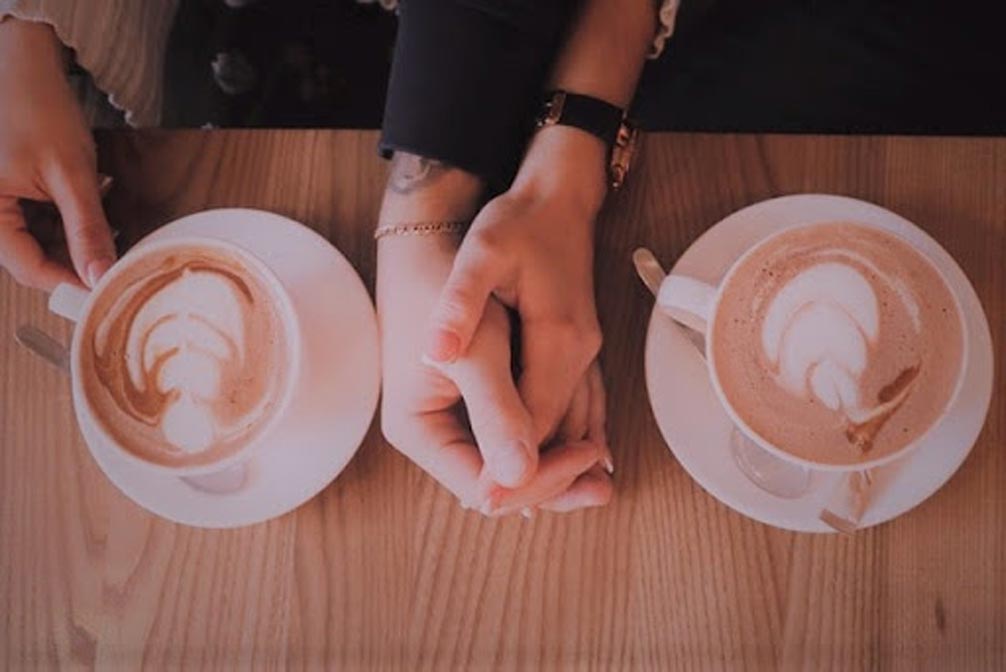 Don't be surprised to see so many cafes almost every square meter.
It's not shocking that there are cafes on almost every square meter.
With a warm drink in hand and a cute setting, going to a coffee shop is the pinnacle of all romantic date ideas.
You will enjoy a tasty drink while conversing with your partner while listening to the sounds of the cafe and taking in the warm atmosphere.
There are a few interesting cafes in Lviv that are worth visiting:
In the shadow of the Golden Rose. They serve Jewish food, and you can haggle over the final bill price.
Legends of the House. A chimney sweeper and his family live here, in one of Lviv's most famous cafes.
This one would be easy to recognize because it has a car on the roof. Don't be shocked if strange things continue to happen here.
Lviv Cat Cafe. Enjoy a cup of delicious coffee while surrounded by cats who will sit on your lap!
Lviv Croissants. This shop sells croissants, as the name implies. It operates a chain of cafes in Lviv and is well-known for a reason.
Lviv Coffee Manufacture. You will have a nice time here. Before getting your coffee made for you, you can mine for it yourself.
This cafe will outfit you with a hard hat and mining equipment, then take you "underground" to mine for coffee beans.
Ukraine's Romance
Ukraine is a romantic country.
Every city you visit has beautiful women strolling the streets, as well as naturally breathtaking views and tourist attractions.
Spring has arrived, and it is breathtaking.
Your search for love will continue to thrive, and as long as you know where you're headed, you'll be perfect.
You can skip this list and go on your own journey if you really want to. You might also come up with your own date ideas.
Take a walk through one of Ukraine's beautiful cities and discover what you and your partner really enjoy on a date.
Since there are so many options, you're sure to find a dating experience that both of you would enjoy.
Newest, beautiful, single women now added for week of Wednesday, 9 June, 2021 - Tuesday, 15 June, 2021
You have to meet the women to marry them! We have group singles tours departing nearly every month!